Pink blushers can look weird on me if I'm not careful of the shade since I'm cool toned but freckled with red hair. When they work, they're fabulous, when they don't I look like a clown or a hooker. What I like about the Victoria Jackson pink Color Collection is that the pinks are such delicate petal pinks that they aren't garish. You get two shades- one darker than the other- so you can blend them if you choose. I like to use the darker shade on my cheekbones and the lighter shade on the apples of my cheeks so my bones are accentuated but the cheeks have a natural looking glow.And normally I don't like square blush applicators, but the one that comes with this kit is so soft that I actually use it.
I totally love Age Defyer Eye from Cures By Avance. I especially appreciate it on those days when I haven't gotten enough sleep, as it's formulated to tighten the skin under the eye area reducing dark circles and bags. I instantly look more awake and alert. I'm not sure of it's long term benefits, but I can say that the immediate results are readily noticeable. Now if I could just remember to get the gunk out of the corner of my eyes.....
Cures by Avance Age Defyer Eye: A rich, anti-aging eye cream for mature, aging and lackluster skin types.
Description:
Age Defyer Eye is a nourishing, anti-aging cream for replenishing moisture, smoothing fine lines and wrinkles and diminishing under eye bags. It encourages collagen production, reduces dark circles and boosts elasticity, resulting in a more youthful tone and texture. The eye area becomes brighter, more supple and healthier-looking.
Available at
DermStore
I'm so sad :-(
Apple was always a favorite kohl pencil when I was in the theater, because it went on smoothly, made an even line, and stayed on under the hot lights, but was in the under a buck range instead of of the pricey professional Ben Nye theater makeup (at my college anyway, you had to provide your own makeup kit.) Heck, you could get them at beauty supply stores for 50 cents. I started using their dark brown to do old age makeup when I was in a long running show and had used up all of my Ben Nye old age paint. Too bad, they're made in China and I'm ascared now. Darn you China and your scary poisonous products! Seriously, I would have taken an Apple kohl pencil over Elizabeth Arden's any day.
Just about the best sharpener I've come across is a good old cheapie from Ulta. For $2.50, you get a dual sized sharpener for your standard pencils AND your jumbos. It gives a slightly rounded tip so the pencil ends don't break off when you first use them, and I've never had it give an uneven sharpen. The best part about it is that it has a little flap over the blades so your shavings stay inside and you can dump it out at your convenience. I keep mine in my daily necessities box.
Available at
ULTA Beauty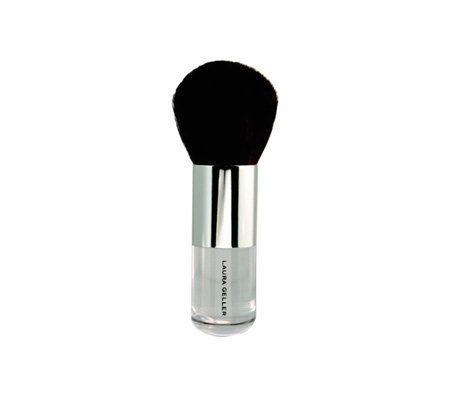 They retail for $29.00, but you can get the Laura Geller Lucite handled Kabuki Brush on Ebay new for less than $10.00. I love using this brush to apply mineral foundation or veils, because it's so smooth and rounded that it gives even, flawless coverage. It doesn't pick up too much powder at one time either or give you those weird poofs of hidden deposits that have to be rubbed off. It's very thick and fluffy. What I like best is the handle, it's thick but longer than most kabuki handles making it really easy to have natural control over your application.
ARGH! Avon has a red lipstick that is the exact color of red that DuWop Private Red turns when I wear it, and since it's Avon, it'd certainly be cheaper than the DupWop price tag. It doesn't feather, it's long lasting, it applies beautifully, and it makes my lips look pin up girl sex bomb. TO my dismay, the name has rubbed off of the bottom of mine so I have no way of knowing which color it is! CRUD CRUD CRUD! Any Avon reps out there that want to send me some samples so I can identify it and replace my depleted tube?
:-)