And we have a winner! Congrats to Kimberly!!!! If you missed out, you can still buy from her a store with a 10% discount using the code SUMMER10- just watch the video to see why you should check her out.....

I was first introduced to Mary Ellen's Crafts by The Crafty Sampler (one reason why I love samplers so much, you often find things to fall in love with!) My "fall in love moment" came with one of her FANTABULOUS Crocheted Dish Scrubbies. They are crocheted from nylon netting and are Teflon safe. They work as well as steel wool without the harshness and because they're nylon, they stay clean and last FOREVAH. They work equally well on my antique cast iron tub and on my plastic shower curtain, leaving everything clean with ease. Lot's of people do crocheted cotton scrubbies, but these are so one of a kind and unique, and, well, just brilliant! What a concept! Seriously, these things work better than just about anything, and like I said, they also don't scratch. I used one last night to hand wash some of my wedding crystal. Does that tell you the level of trust that I have here? The cost of one of these bad boys? Only a buck fiddy! (my first one, I've had for over a year, I just throw it in the dishwasher and it's good as new.)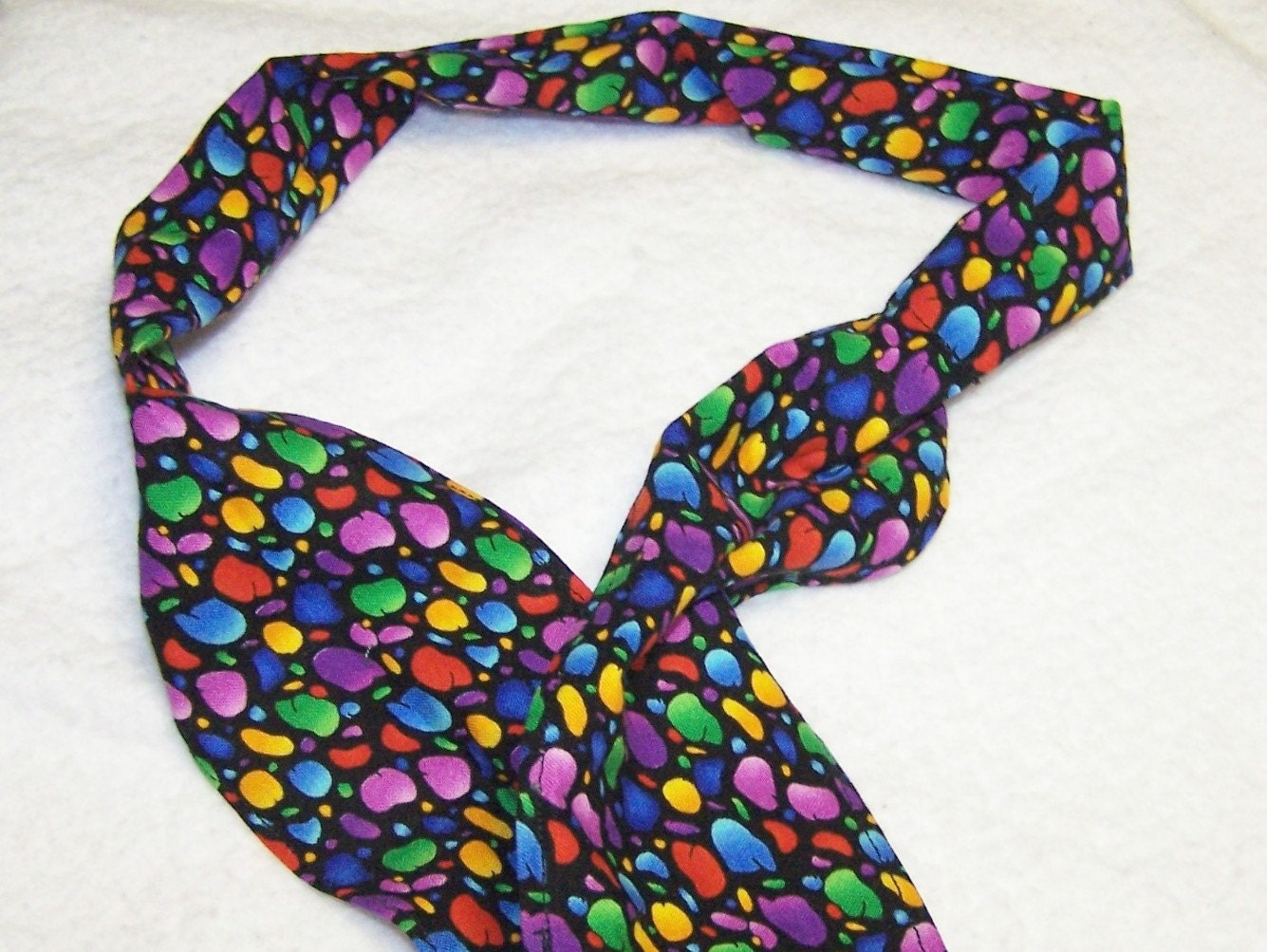 Her cooling neck bands are MIND BLOWING! For a mere FIVE BUCKS you get this ingenious personal air conditioner. Looks like a piece of flat cloth here, right? Well put it in some water and watch it do a magic trick! It swells up and holds water, turning it cool across your neck, lowering your body temperature a large number of degrees. I put it to the test. I live in Texas. it's summer. I like to cook. We live in a very old, drafty house and the kitchen literally gets over 100 degrees when I'm cooking. Well, I now use this thing every night when I make dinner. My husband even borrowed it to go out and mow the lawn! They are so freakishly cool that words just don't do it justice. (demonstration video to be added!)
She makes a number of different items, for instance this awesome crocheted mesh bag (only $25!)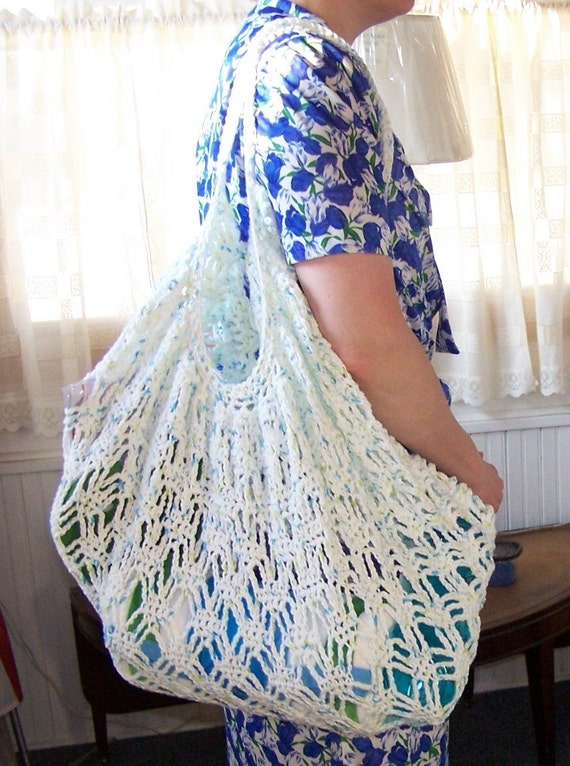 and this gorgeous wrap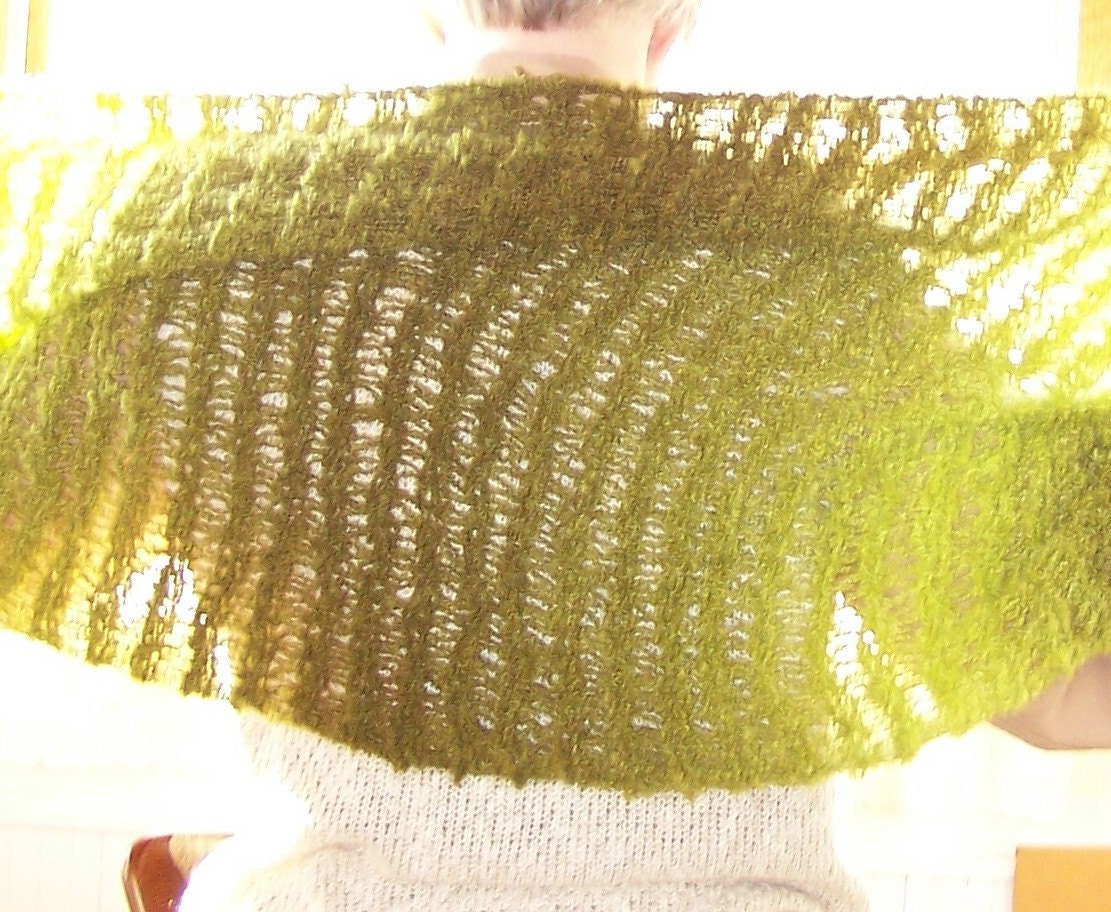 I got to ask Mary Ellen a few questions about her work.
How long have you been crafting?
I have been doing some sort of crafting since I was about 4 or 5 years old.
DO you do this Full Time?
I wish I could, but I work on items during my "free time". Actually, I am very rarely not working on something. If I am sitting down at home I usually have either a crochet hook, knitting needles or at the sewing machine.
What inspires you?
I would have to say my mother. Tho she passed away in 1997, she was the one who started me doing crafts. She taught me how to knit before I started school, then came embroidery, and sewing. Before I started sewing, every Easter my two older sisters and I always had new matching dresses Mom had made. She made a lot of the trims she put on the dresses. Later when she taujght me to embroider, we would get stamped pillowcases. I would do the embroider, she would do the crocheted edging. As I got older she would watch for items for me to make. She was the one who started me making the pot scrubbers.
Your favorite item that you make?
I have several for different reasons: Pot scrubbers because it was something Mom had given me to try. Dish cloths: were the first thing I learn to make. I love making items for babies!!!!
What do you enjoy doing in your spare time?
Doing things with my Dad. reading (sometimes I even knit the dish cloths while I am reading, don't want to waste anytime. Watching movies, cooking, baking; spending time with family and friends.
Another handmade seller who's work you admire?
I would have to say: Dennis Anderson of Anderson Soap Company here on etsy. When I started on etsy, there was an article I read about "Quiting your Day Job". The article was about Dennis. I convo him for some suggestions. He was very helpful. I started selling items. I continue to do as he suggested. THANKS, DENNIS! I LOVE Dennis' soap. I have always liked handmade soap. It has been a while, but I would make the melt and pour kind for myself. I always and still hope to some day, try making it from scratch using lye and the whole works. I have a kit and lots of recipes, it is a matter of finding the time to do it. It has been a long time since I went into a store to buy bars of soap.
And lucky you, one of my readers will receive a kitchen set from Mary Ellen! Just enter the super easy giveaway below!
As an added bonus, if you'd like to make a purchase from Mary Ellen's Crafts, put the code "summer10" in the coupon section and get 10% off!
a Rafflecopter giveaway