Don't look if you wanna be surprised!
The July PopSugar Must Have Box spoilers are here (thank you RachelNYC and mishmish over at
MUT
)! Here's what's included:
-Tovolo King Cube Tray: $7.99 average

-Mighty Leaf Iced Tea Bags: $6.25

Supergoop City Sunscreen Serum SPF 30 , 1.7 floz
With Uniprotect PT-3
$42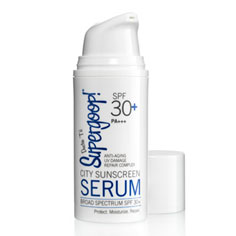 -NCLA "5 free" Nail Lacquer: $16 ( Everyone is getting the "It Girl" color which is the light purple seen in the box photo).

-Baublebar Rose Double Curb Chain Necklace & 20% off Code: $28
All totaled, the July PopSugar Must Have Box has a value of $102.24! I'm (as always) super excited to get mine; as soon as I do, I'll post a video. I can tell you, those giant silicone ice cube trays are AWESOME and perfect for summer since they melt a lot more slowly than standard cubes.