Jade Dumpling
Kawaii Mini Food Jewelry And Asian Inspired Home Decor
is absolutely on of the CUTEST shops on the market! Everything there elicits a girly squeal of delight out of me. Kawaii literally means cute or adorable, and Jade Dumpling is no exception.
I originally got the mini sushi refrigerator magnets and was instantly smitten! They're just so darn, well, CUTE!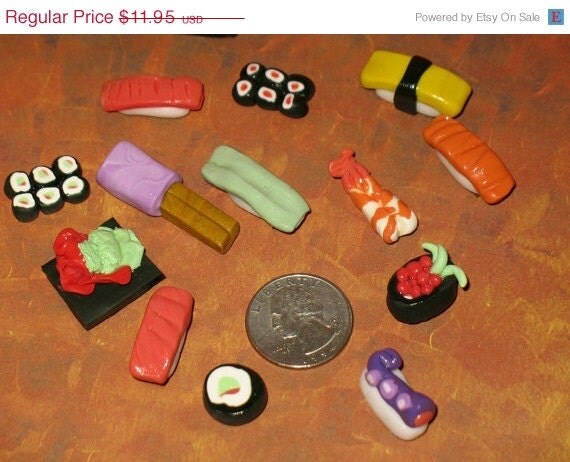 So of course, I HAD to go back for more, thus the crab leg soup ring
And the Geisha Loves Sushi bracelet
These pieces are hand sculpted, so no two will EVER be alike. Absolutely one of a kind to impress your friends! Not only that, but these are superb conversation starters, people just HAVE to get a closer look.
I got to have a little convo with Susan The Magnificent (I'm calling her that, she did not give herself that moniker!), and here's how it went:
How long have you been doing this?
I have been a working artist & crafter for over 12 years. I teach at several local community colleges here in IL. I split my time between teaching and running my business.

What first inspired you to start Jade Dumpling?

I have always loved Asian art work and design. It has been a source of inspiration for years. Every year I change the dynamic of the shop with my creations. This year I had a great time designing a large line of kawaii (super cute) mini food jewelry inspired from Japan's culture. The Jade Dumpling however, is just one of my shops:

In my shops you will find a very wide range of items that I create! Right now I have 5 shops that I sell on Etsy. Each one I treat as a place to explore a theme or concept as a series. Each shop has a special meaning to me and represents an area of my life and interests. I try to test myself on choosing a theme and seeing how much I can explore the subject. When I need a break from the theme I switch to a different shop to shake it up and get a fresh perspective on my work. I invite you to stop by all of my shops to see the range of mediums I use as well as how I create fun, modern handcrafted items to help transform your living spaces!


Name one other handmade artist who's work you like:
Check out Pixiebell! I just love her and her husbands work. Just lovely.
www.etsy.com/shop/pixiebell?ref=pr_shop_more

Where do you look for inspiration?
I look for inspiration mostly from other artist's, far a way cultures and my environment. I love to garden and grow my own food, I am an avid reader and love to surf the net looking for beautiful objects to inspire me! I have a lot of interests, so I have found that having several unique Etsy shops keeps me engaged and active in the arts and also helps keep my work from getting repetitive.

What got you started crafting?
My mother was the craft one growing up. She would color with me when I was only 3 and would show me how to sew, and many other mediums. Later I earned a degree in education and specialized in Fine Art. I also am a fully trained graphic designer as well and use all these skill in running my business, but my mom is the one who started it all!


Of your pieces, which one is your personal favorite?
Honestly usually my favorite is whatever I am working on at the time! Some of the pieces take a long time to create, especially the artwork so you tend to get attached to whatever you are making. Right now I am in the process of making my yearly batch of noodle bowl candles. I only make them once a year for the holidays since they are very time-consuming. They sell out every year and even though they are fairly difficult to make, if I had to choose it would be them. Here is one from last year's batch.
www.etsy.com/transaction/65924906

I expect to have the new candles done around September 1st. Feel free to contact me to put one on hold. They go pretty fast once I list them!

If you would like to see my other shops:
www.UrbanStudioSupply.etsy.com = beads, jewelry supplies, fine art & craft supplies
www.CreativeHomeGarden.etsy.com = all wonderful garden themed items, garden art, specialty seeds
www.PowellDesignStudios.etsy.com = fine art and art prints
www.RubyKeen.etsy.com = embroidery hoop art, felt items and hand-felted gifts, handmade home décor plus some vintage (will be open for the holidays 2012)
www.JadeDumpling.etsy.com = Asian themed art, sushi themed items, minature food and kawaii

You can learn more about myself and my work by visiting my website:
www.PowellDesignStudios.com
There you can check out my blog, join my newsletter, get discount codes and links to my social media.