I absolutely LOVE handmade items, and especially bath and body care. I love knowing that I'm using something on my body that was made with love, thought, care and personal attention to detail. So lucky me, there's some great ones out there. Take the time and buy things like soap handmade and you'll be amazed at the difference.
Brieabella's Penguin Love
makes some absolutely mind blowing soaps. I've been meaning to do a full individual review on this store alone, but the Hubband promised to do a video with me and I'm holding him to that! See, Hubband was complaining one day that I have all these fabulous handmade soaps and that he loved the way they made his skin feel when he was out of his store bought stuff and had to borrow mine, but mine tend to be scented in not the most masculine of ways. Well Brieabella's to the rescue! I told Stephani (the adorable soap mistress part of the team) about this and voila! TONS of manly soaps for The Hubband! Well, before he even got to use one, a friend of ours who's a mechanic came over to work on Hubband's car. After 2 days of laboring on the beast, he was ready to clean up and be presentable again. He saw the soaps sitting by the sofa and started tearing through them like a kid in a candy store, sniffing each bar and proclaiming over how great they smelled. I figured after many hundreds of dollars worth of free car repair, least I could do was give him a fabulous bar of soap to use, and he was BLOWN AWAY. How often do you hear a guy who just worked on your car gushing about how soft a soap made his skin while stroking his arm like a kitten?
So I went ahead and let Matt pick out his first one to use, despite wanting to save them for a video. Good choice, Babe! He decided to start with the Creole style- Red Beans and Rice. WOW. I could not stop sniffing him! And ya know what? I couldn't help myself, I had to use it too. I'm a sucker for spicy, woody and earthy smells and this fit the bill. I restrained myself so he could feel like it was special all his, but I snuck in a few uses ;-) Whod'a thunk it? The beans and rice made a wonderful exfoliator and after a weekend on the river left me covered in mosquito bites, this stuff was SOOOOOOOO amazingly soothing. Purrrrrrr. Turned me into a kitten too!

Formerly Om Shanti Handcrafts, they are now
The Vagabond Tabby
, but the awesome products remain the same.
From The Etsy Page:
I'm a wicked girl saving myself, an outlaw flying alone in the Black, a pirate and a good man. An herbalist, a shewolf, a catmommy and a friend to dogs. At the root of it all I'm Kate.
I started Om Shanti Handcrafts for small, personal reasons — dry skin from the dry air of Colorado, trying to get out of a hellish Walmart job — but I stick with it out of sheer love for what I'm doing.
I love making my products. I love experimenting with new scents, new blends, new ingredients. I love taking baths and calling it market research (though alas, I can't claim my hot water bills with the IRS).
I even love the business end of things (though marketing still annoys the crap out of me). And speaking of crap…
Crap Free. Guaranteed.
I use only natural ingredients. Most fragrance oils make me sneeze, and most of the ones that don't make me sneeze just don't smell good to me. So it's essential oils, herbs, a few natural flavourings, and some extracts. Nothing artificial.
Nothing I can't pronounce, either, and nothing I know can be harmful, even if it's technically 'natural'. And I test everything on myself before it even gets put into a jar.
Not Just the Ingredients…
My containers are mostly glass, and all of them are recyclable. I use recycled packing material to ship, and I reuse boxes to ship when I have the right size available. I'm doing what I can for the Earth; it's still the only place we have to live.
Well I've used a number of the products, but today I've got a theme, so those will just have to come at another time!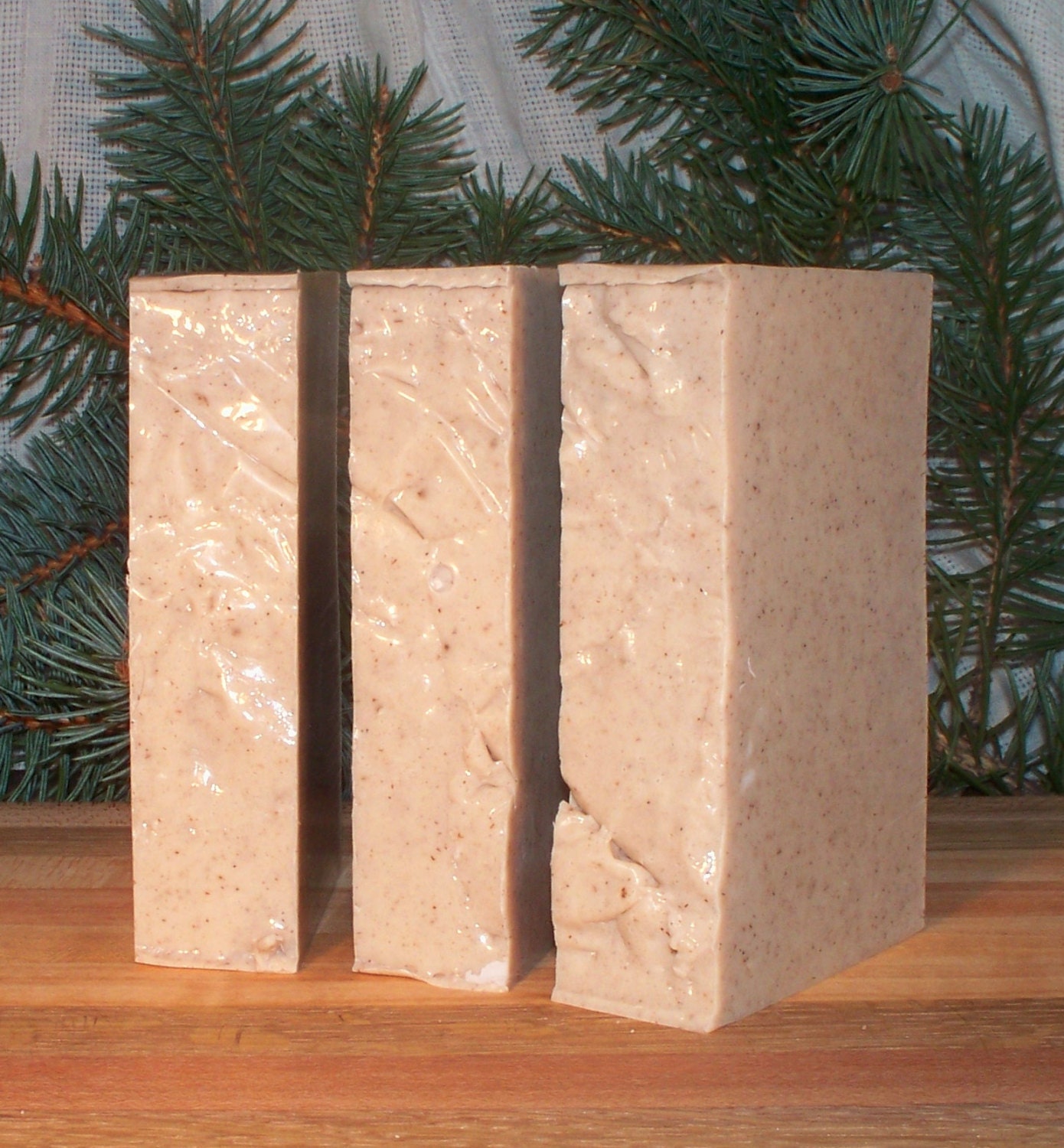 Kate's spicy scents make my eyes roll back in my head. Pure essential oils make for a heady, heavenly bath or shower. With cocoa butter, mango butter and jojoba oil, these feel as luxurious as they smell. She'll even do custom orders! Hubband wound up appropriating one of these for himself that I had in the shower, but luckily I had a second bar hidden away ;-) I like to keep the sampler sized ones in my bathroom for guests as well- they always get a compliment.
Crows Nest Primitive Shoppe
makes a DIVINE Brown Sugar Scrub.
You can even get a trial size for $1.75 if you just want to check it out, but trust me, it's fabulous. Made with fractionated coconut oil (which has a much longer shelf life than other oils, on top of being a miracle product for the skin) brown sugar and essential oils of amber and vanilla. It leaves your skin feeling like silk, and you don't need a lotion afterwards- your skin is in Valhalla. PLUS- you smell like, I dunno, Heaven or something.
And while these aren't body products, they are food inspired, so I want to recommend Crow's Nest tarts. I love the Black Cherry and the Cran Orange melting tarts. Smells just like the real thing. YUM!!!!
So be nice to your skin and happy bathing!