Smashbox Photo Finish Foundation Primer Light Light 1 oz
What it is:A water-based, lightweight foundation primer.What it is formulated to do:Perfect for oily, acne-prone, or sensitive skin, this oil-free, 60% water based primer refreshes on contact while oil absorbers provide a smooth, matte finish all day. Light diffusers minimize the appearance of imperfections while vitamin C and peptides help even skin tone and promote collagen production for a flawless future. What else you need to know: Photo Finish Foundation Primer Light is oil-free, fragrance free. Perfect for the summertime in Texas when I sweat and ooze oil in equal amounts. At first I didn't realize what it meant by light, I thought I'd grabbed a light tinted primer not realizing this wasn't the standard Photo Finish formula. Once I tried it though, I was extremely pleased! It kept my makeup in place (though to be honest, not as well as the original formula) and gave my skin a smooth, even finish. For some reason, since i started using this one, my Nars Orgasm Illuminator
seems to have more twinkle to it. I like that I can use it in the hotter months and not feel a heaviness on my face- this is the perfect happy medium for me. When using this, I'd recommend keeping some blotting papers (or just toilet paper, for that matter) around to absorb any oil that peeks out without weighing your skin down.
Lauren Brooke Cosmetiques
vegan eyeliner in black/brown I really really wanted to love this product. I have been extremely pleased with my other Lauren Brooke items, and I'm a huge supporter of natural makeup lines, but this one just wasn't up to par. I had to go over the area again and again for the color to show up, and even then it still was quite sheer. It seemed to settle into my fine lines so I looked like I'd been wearing it for 12 hours instead of 12 minutes. I thought it might go on better with an eye primer ( I Used urban Decay's Primer Potion)
and it was actually worse, it deposited no color at all and just slid around uselessly. It's just okay enough that I'll throw it into the makeup bag I keep in the car for "makeup emergencies" since it won't wreck me for it to melt, but it's certainly not going to be my go to by any stretch of the imagination.
Cover FX Conceal FX concealer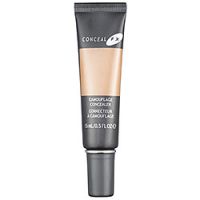 I had high hopes for this brand, and now I'm about to chuck the tube because it's so incredibly useless to me. I got the Light shade because I have, well, light skin. To my horror I see this yellowish/tan goop come out! I thought, well maybe it will blend in. Nope. It left me with yellowy, orangey patches wherever I put it. To make matters worse, I then couldn't remove it without cleanser. Great for the people it works on, but a pain in the tchutkas for me. When I put it under my eyes, it made me look like I had jaundice and despite not having much eye area wrinkling, it settled into the ones I do have and made my under eye area look crepey. And how does it manage to be cakey and greasy at the same time? Grrrrrr.