There is this AMAZING website
where you can get CRAZY deals on big name cosmetics. I mean, REALLY crazy. Like Urban Decay for five bucks instead of twenty five crazy. I've ordered from them and the products were exactly as described, fresh, legitimate, and a steal.
SO I checked on there, because I had purchased previously a department store tester sized bottle of Shiseido Benefiance energizing essence there for something like $30 (an ounce retails for sixty bucks, and this was a 3.3 ounce bottle) but those are long gone. Sorry. They do have tons of other amazing deals though, so go check 'em out!
So back to the Energizing Essence. Oh, mama! The scent is divine. It's meant to energize your skin, but the scent energizes my whole being. It makes my face feel like it just had a great workout or something! It's another one of those serums that really helps pull your skin out of the doldrums. It brightens up your whole face and has a lifting and firming effect. I like to use it on my throat and chest as well. I had never used Shiseido skincare before, just a few of their makeups, but this was such a good deal I couldn't pass it up, and boy am I glad! I LOVE this stuff.
I finally used up all of my IQ Derma cellulite gel, so now I'm trying Bliss Spa's Fat Girl Slim. While I do realize that they're making a play on the DJ FatBoy Slim, I'm not too crazy about being called fat by my beauty products. It's like that Strivectin logo that says "Got Turkey Neck?" I think their ad campaigns must have been designed by men (or skinny people).
I don't know how well to tell how it works, as I already had such good results with the IQ Derma cream and so this is being used over the results of the first. Since I'm not seeing a retrograde in my cellulite's status, I will take that to mean that it's continuing the job. Now with these creams you HAVE TO use them EVERY DAY, TWICE A DAY or they will not work. I decided to try this one out since it's a cheaper alternative, and I figure I already let the other cream do the heavy lifting (har har) so I'm using this as maintenance. It's available at Dermstore, where they have a money back satisfaction guarantee, so you can always try it and send it back if it doesn't work for you.
Free Gift with Purchase at DermStore.com
Because it's so hot, I've let my bangs grow out so that they're long enough to wear back, having my hair covering my forehead was just no longer an option. Today I went for a cute little baby pompadour created by taking tiny tiny hair clips (the kind made for little kids) and sweeping up and under my bangs and clipping them into position. After a little futzing with it to get the perfect bang pomp, I used Salon Selectives Flexible Hold Finishing Spray to keep it in place, and it has held ALL day. I love non aerosol pumps because I can carry them with me without worrying about them discharging unexpectedly- that's how I wasted an entire can of Neutrogena Spray Sunblock- and they seem to give more targeted application. I know it's a drugstore cheapie, but it works, smells decent and is inexpensive. I can let people borrow this one without having an anxiety attack, so that's why I keep a little travel sized bottle in my purse. It holds well but doesn't look stiff. I just wish the bottle didn't clog so easily!
I have fallen in love with i.d. Bare Escentuals Eye Buki! It's perfect for applying a single shimmer of color or blending together similar subtle colors. If you're doing a color wash on your whole lid, this gets it's all in a few strokes, softly, cleanly and evenly. It's mind blowingly gentle on your lids.
Available from
is what I'm wearing today. I have on their Dew Drenched Moisturizing Lip Color in Toffee Caramel. It's a soft and natural looking color, but what I love about this lippie is the texture and flavor/scent. I'm not sure if it's more of a flavor or a scent, but there's a tingling sensation, like I'd just sucked on a peppermint candy. It has a very stimulating and cooling effect. It's moist, not at all sticky or gloppy, and lasts (well, you do have to reapply after eating, but come one- let's not get too picky!) It's like the soothing quality of a balm but with more color. Sheer and classic. Also wildly popular with reviewers!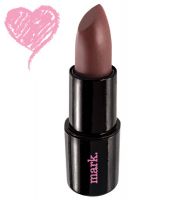 I'm also wearing the Citrus Bloom Fragrance Mist, which is a perky and tangy citrus. A little sweet and grapefruity. Crisp and flirty with floral undertones but they're so subtle that it doesn't get too sickly sweet. It makes me feel clean and bouncy!