AND WE HAVE A WINNER!
PLEASE NOTE: I HAVE 2 PHOTOS THAT NEED TO BE ADDED (CHANDELIER HAIR PINS AND AMY SEDARIS WITH THE MOTH BROOCH) They're on my hubby's camera and he keeps forgetting to email them to me, so I gave up and decided to put this up anyway. They'll be added shortly, once I've finished beating him :-)
Mistress Rae's Decadent Designs
is a place where you can get some of the most fantastically unique, one of a kind items on the market. Her Victorian/Steam Punk style jewelry is a showstopper, and her dolls are BREATHTAKING. I have a few of her different hairpieces and I get stopped every time I wear them. Both the Chandelier hairpins and the Skeleton Royalty hairpins have been very close to stolen right off of my head!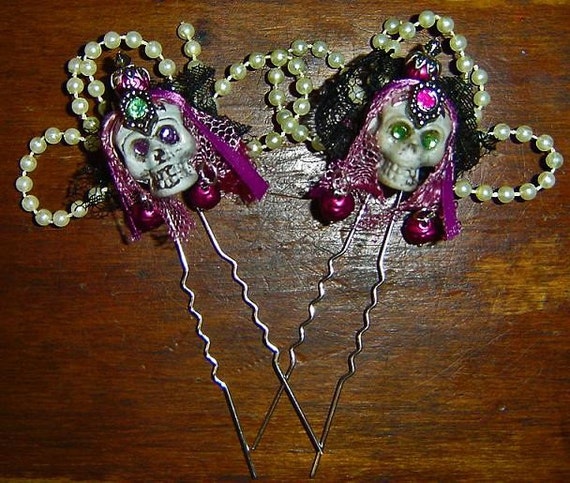 If you go to her Etsy page, you'll see that she has perfect feedback- not only is she talented and creative, but she's an honest, friendly and easy to work with seller as well.
When I ordered my Lady Victoria doll she included a ton of super cool extra goodies, included one of her highly coveted insect jewelry pieces. I wore the broach to go see Amy Sedaris (she of
Strangers With Candy
and the book
Simple Times: Crafts for Poor People!
fame) who liked it so much that I just had to gift it to her, even though I'd worn that pin almost every day since I'd gotten it. I guess I'm just gonna have to replace it with this necklace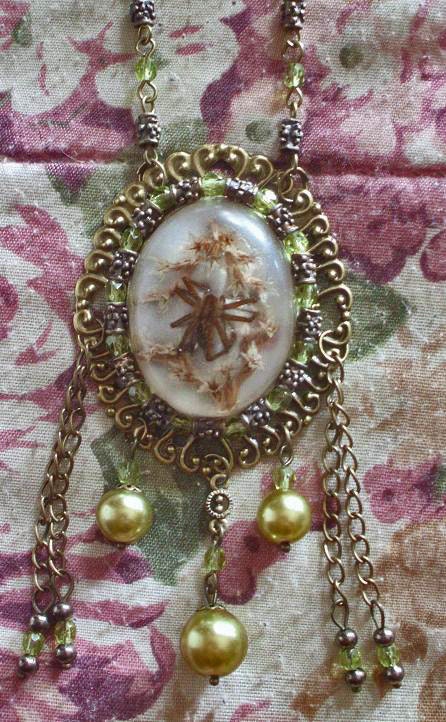 Madame Belle Arachnid Necklace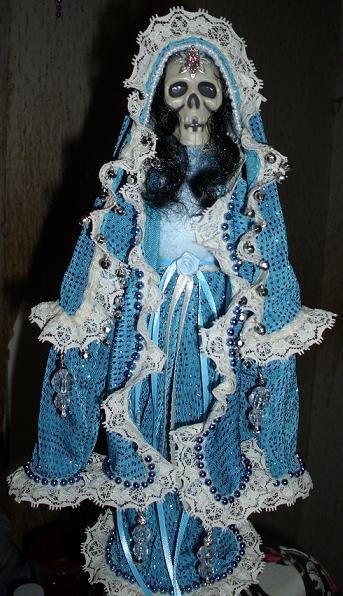 The Santa Muerte In Blue is beautiful and reminds me of the statues at my local Botanica but MUCH less expensive.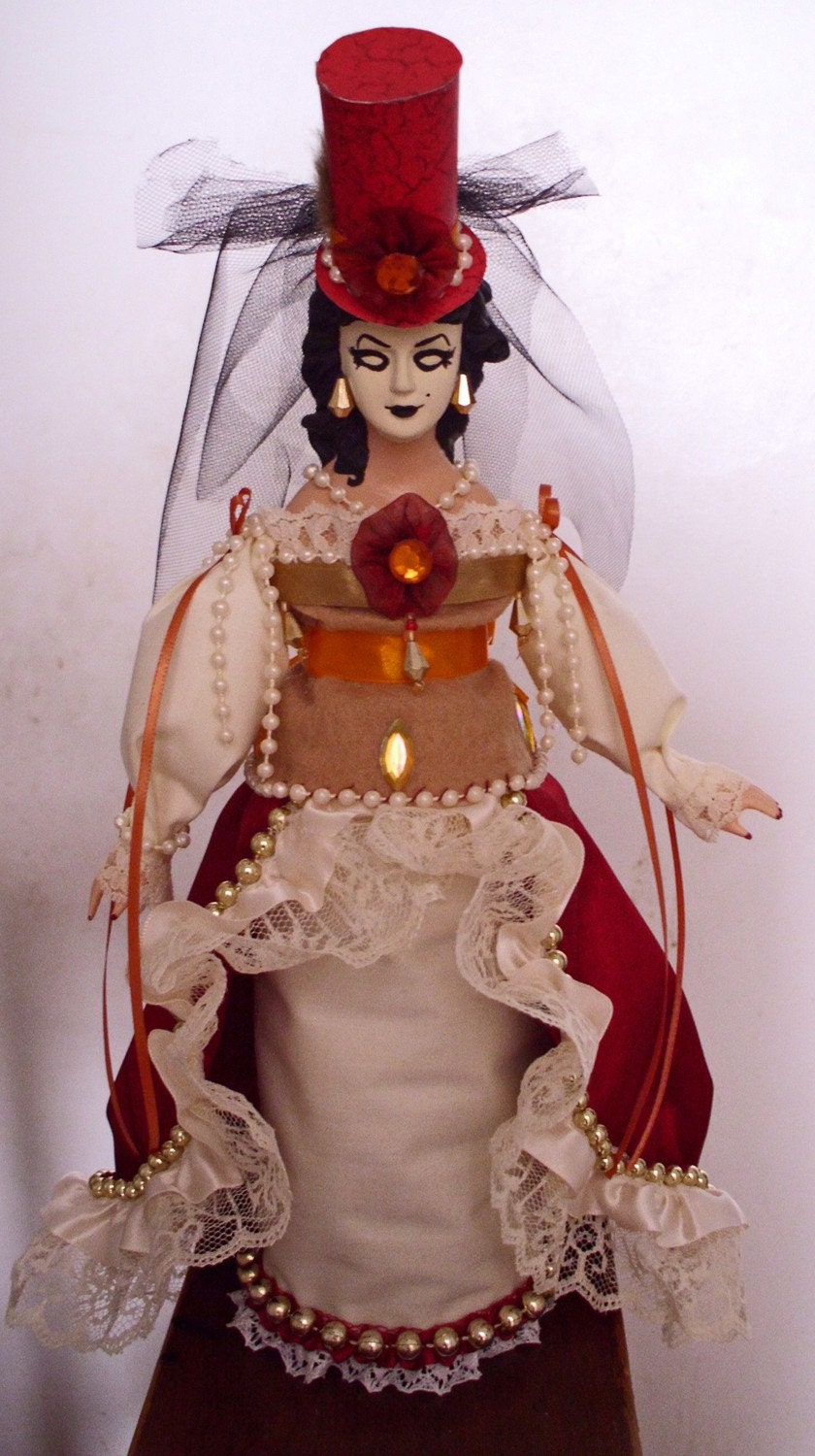 Lady Victoria (I only paid $7.50 for her!!!!!!!!!!!!!!!!!!!!!!!!!!)




And look at this set currently on her page for only $23, including real flowers encased in the pendant!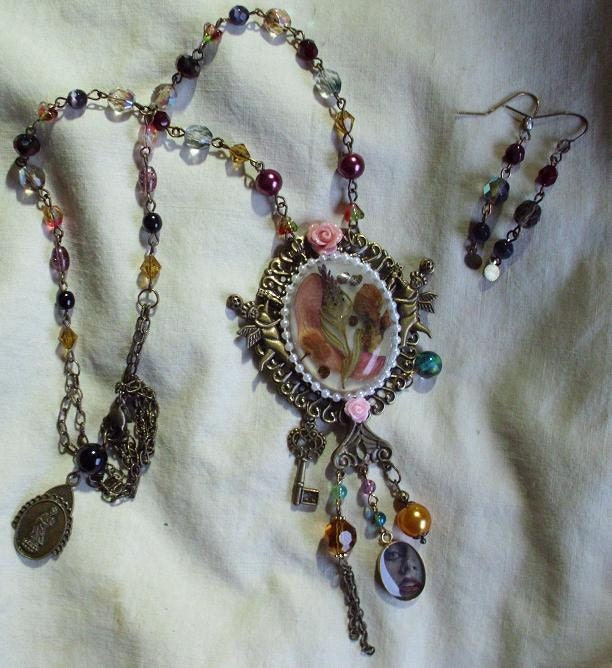 STUNNING!!!!!
Not only does she create jewelry and dolls, but she's a writer too! Whew! She just finished her latest work, Diary Of A Vampire Stripper, which promises to be a fun read.
But wait, there's more! She's also a photographer, as evidenced in her photo book
Terra Mysteria
Cinsearae is a lovely, intelligent and talented woman who I'm proud to support and share with you. I can't recommend her enough!
Following is an interview that we did, and you can see for yourself what a charming and fun girl she is :-)
I see that you've studied both English and theatre. Do you feel like either have influenced your pieces? (I did the same actually. Started acting in the fifth grade, went to a performing arts high school and majored in theatre until I decided to switch to English Lit)
The acting bug bit me I think sometime in junior high, and followed me through college, lol. The last time I did anything on a stage was waaay back in 2000 with an acting troupe that did 'educational theater'. We did excerpts from works by Shakespeare and such. Was a lot fo fun! I can't really say it influenced any of my pieces, although it may have helped me develop a keener 'eye' when it comes to the asthetic part of my creations.


You write as well as create dolls and jewelry. Tell me about your different writing projects. (And you have a book coming out in June!)
I'm Editor/Publisher of (award-winning) Dark Gothic Resurrected Magazine. It's tri-annual, coming out in April, July and October. Of course, it caters to the darker side of things--Gothic, horror, and paranormal. I also write horror and dark paranormal romance. My most recent novel, "Diary of a Vampire Stripper" will be out this June, so I'm busy with getting the word out about it. It's a chick-lit, snarky, misadventure with a splash of romance--I'm more the suspenseful type of writer, lol. I invite everyone to check out the book's webpage for downloads, the trailer, and even a fun quiz on the two main characters:
http://bloodtouch.webs.com/doavs.htm

and for aspiring and seasoned writers and artists interested in submitting sommething to the magazine can visit

http://bloodtouch.webs.com/darkgothicmagazine.htm

.

Where do you look for inspiration?
I'm a very visual person; I love Goth in the asthetic. I visit cemeteries, or take road trips with my hubby and stumble upon places on the way, intentionally or not. And I *always* take a camera with me. I've found abandoned houses along roadsides, dilapidated buildings, you name it. Nature herself has always offered some very eerily photogenic scenes for me, especially on rainy or foggy days! Of course, I love horror movies, or anything with a quirky, non-mundane slant. I love period movies too. It all helps with inspiration in the long run, lol. I recently published "Terra Mysteria" a book of erie and atmospheric images I've culminated over the past three years available on my storefront,

http://www.lulu.com/spotlight/gratistavampires

.


I LOVE your insect pieces and how they take something that was once a pest to be swept away and turn them into something of beauty. What gave you the idea for these pieces?
Honestly, I think my muse handed me that idea, lol. You see a lot of Victorian mourning jewelry in which human hair is incorporated into beautiful works of wearable art, and I wanted to create something that had a bit of Victorian inspiration with a tad bit of creepiness. Spiders, grasshoppers, crickets, moths, bees/wasps---these insects have special meaning in Victorian lore, so I try to use these particular insects the most---and finding them already dead, of course! My hubby also enjoys bringing home any insects he comes across in his line of work, and seeing what I wind up creating, lol.


Why did you decide to start making dolls?
Dolls are fun *grin* and creepy, if you want to take it to that level (cue eerie laugh...). I LOVE to raid thrift stores or flea markets to find discarded and unwanted dolls so I can take them home and give them a complete makeover, lol. they NEVER look anything like how I found them when I'm done, lol. I'll also start from scratch and get doll parts, then go from there. I also like to upcycle items when I can, which was why I started making my "Lovely Bottle Ladies" from either glass or heavy plastic bottles.

(note- see my Lady Victoria for an example)
When you aren't writing or crafting, what do you like to do?
I like to create digital art when the muse hits, and I'll listen to music while I do that. Other than that, I love going to state parks with my hubby and our two crazy rat terriers. Horror Conventions, Gothic events (I love any chance to play 'dress up', lol!) going out to the movies on occasion, or just watching them at home. I can be a little bit of a homebody at times, until my mood shifts and I'm itching to get out and do something.


How long have you been creating your pieces?
I've been doing this for almost three years now, when I opened my shop Mistress Rae's Decadent Designs back in 2009. I'm getting more into the swing of things this year, though, as I'll be taking my shop on the road to the National Haunter's Convention next month, so I'm very much looking forward to that!


Anything else you'd like to have mentioned?
Mistress Rae's Decadent Designs is also on Facebook! I love getting 'likes' for my page! And thank you so much for the interview, Julie Ann! It's been fun!
J
Support handmade and stop by her store! Just to encourage you to check her out, I'm sponsoring a giveaway for one of her elegant and exquisite handmade jewelry sets made especially for my readers. Cool, huh? Spread the word and gain extra entries for yourself.
One of her newest dolls- these are similar to the dolls I make! Who needs mass produced Living Dead dolls when you can own a one of a kind original?
a Rafflecopter giveaway