Bliss Lemon & Sage Body Butter and Soapy Suds- Gurgle..... oh sorry, that was the sound of me drooling. I cannot get enough of this scent! A zingy citrus balanced by a very subtle earthiness. Bliss indeed! The Soapy Suds leave your skin feeling extremely clean but not at all dried out. It feels quite nourishing, actually. I had someone tell me that if you have the body attachment for a Clarisonic and use this that afterwards your skin feels like satin.
The body butter is downright decadent in it's richness, easy to see why this is the signature lotion of Bliss's world famous spas. It softens even the roughest of skin without feeling greasy and it absorbs quickly leaving you baby butt soft.
Enjoy 20% savings on Bliss, Remede and Elemis product purchases.
Use Promo Code 20FORYOU!
Enjoy a limited edition cosmetic bag filled with travel-sized head-to-toe beauty goodies from some of our most in-demand brands ¿ yours free with the purchase of $150 or more on blissworld.com!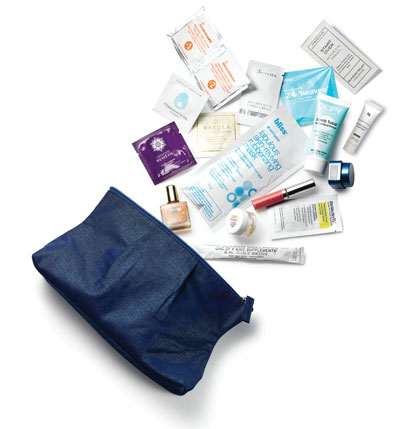 $160 value
Traditions By Nick Chavez Yucca Root Shampooing Cream- formulated with yucca root to prevent hair loss and wild yam to promote healthy hair growth, this rich and creamy shampoo makes your hair super healthy, bouncy and shiny. It's formulated for chemically treatedor damaged hair, so for those who dye or otherwise process your locks, this stuff is incredible. You would think that something marketed so much towards dry or brittle hair wouldn't work on my baby fine locks, but believe it or not ot does an AMAZING job! It leavesit super clean but not at all dried out, it seems to perfectly balance the ph of my hair. My hair seemed to grow a lot faster after I started using this. Very rich and creamy.
Caudalie Premier Cru The Eye Cream- it's nice to know that it's so easy to pretend for a few minutes that I'm rich. I'll never join The Junior League or eat at The Palm, but I can pat this heavenly nectar around my eyes and know that though I may be po', I can use those rich beeotches eye cream. (I just realized how funny it is that I'm being somewhat vulgar in my review of a $95 eye cream.) I've raved about this brand before, and while pricey, their products are
WORTH IT
. Whe you think about it, with eye cream a little goes a long way. This one is really rich, so I tend to either only use it at night or if it's a day I don't plan on using eye makeup. It has light reflecting properties that brighten the eye area and reduce the appearance of dark circles while the cream works long term benefits that plump up the eye area, reducing the cause of dark circles. It fills out fine lines and when I'm being all sinusy and allergy ridden, it's very soothing.
The official explanation is :
How it Works
This rich formula has a laundry list of actives, all of which play a unique role. Grapevine Resveratrol, which is recognized by Harvard University as the best anti-aging molecule, extends cellular life-span by 160% and activates collegian production to smooth wrinkles. Grape-seed Polyphenols, the most powerful antioxidant in the plant kingdom blocks 100% of free radicals helps maintain natural hyaluronic acid. Vinolevure, Caudalie's proprietary molecule, holds more than 100 times its volume in water, which is how it keeps skin plump and supple. Grape-seed oil nourishes along with Omega-6 fatty acids and vitamin E while tetrapeptides and caffeine spur microcirculation to decrease puffiness and minimize dark circles. Perhaps most noticeably, light-diffusing particles make the under eye area appear instantly brighter.
Right now you can get it for 20% off at Spa Look
Fan Di Fendi Eau de Parfum-
Notes: tangerine, peppercorns (pink), pear, blackcurrant accord, jasmine, rose, tuberose, leather, patchouli.
WOW!!!!! Manages to be sophisticated yet sexy and dark without being heavy. There was never a "hmmm, what do I think of this?", it was an immediate "holy smokes, this is awesome!" A spicy and mature scent (not old lady mature, but adult mature). Great staying power without hitting people over the head. I wore one of my husband's shirts on the same day I used this perfume one day and he said he just wanted to carry the shirt around in his pocket and sniff it all day :-) I'm wearing it today and a co-worker stopped me in the hall to compliment the scent. She was positively gushing over it so I offered to write the name down for her. Her response? "GOD no! If I wore that my husband would want to have sex with me!" HAHAHAHAHAHA!
Arcona Gentle Solution PM Repair
Sensitive and Dry Skin Types
Gentle nighttime treatment for dry and sensitive skin repairs sun damage and resurfaces skin as you sleep. Stimulate rapid cell renewal and deep exfoliation with our gentle-acting Glycolactolymer Complex™. Strengthenskin's immune system and combat free radical damage with our high-powered antioxidant complex. Decongest microcomedones to refine pores, smooth and clear skin. Nourish with algae, amino acids and chlorophyll for healthy, glowing skin.
I don't have dry skin but I DO have sensitive skin. I love Arcona products across the board, but this may well be my favorite. When I use this my skin positively glows the next day. It makes your skin so soft and plump! After I began using this, I noticed a lot of my redness from sun damage becoming lessened and I am not having nearly so many rosacea flare ups. My pores aren't nearly so congested either. SCORE!
No Likee -Clean Warm Cotton
Well, I guess saying I don't like it is a bit of an oversimplification. It's not that I DISLIKE it, it's just that it smells
EXACTLY
like walking into a laundromat. I do like quite a few unconventional fragrances, but I also don't wanna smell like the Spin N Fold either. It's just a weird thing to smell all day. One instance where it IS wonderful. If you reek. It's like Febreze for people. I had a shirt that got left in the drier damp too long and I didn't realize it until I'd already left the house and was at work. I had some of this in my purse and I went from smelling musty to smelling like, well, a laundromat. But frankly, Febreze is a lot cheaper. It's Febreze for people who are too snooty to buy canned clothing fresheners!