Good:
L'oreal decided to compete in the 'all the rage' hair oil market with the release of their Mythic Oil line. Not content with
just
an oil, they also added in different types of oil for different hair concerns, shampoo, conditioner and a masque. While I have only used the oil, I was fairly pleased with the results in that it didn't weigh my fine hair down or leave it looking or feeling greasy. Made with avocado oil and grapeseed oil, this is a good treatment for your hair (ever do those avocado hair masks for shine?) I'm a bit surprised that you can only buy it in salons or online though, since L'oreal is generally my drugstore go to brand. Where I found it to be the most effective was as a shine treatment on dry hair, leaving my hair smelling great with a glass-like shine. Where it dropped the ball was as a blow dry pre-treatment. I had to use quite a bit to get the results I wanted (frizz free hair after blow drying. My fine hair frizzes like crazy when I use a hairdryer.)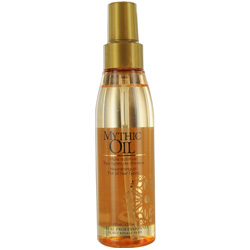 Better:
As a pre-dry treatment, I recommend instead Alterna's Bamboo line Kendi Oil. For the life of me, I cannot find out exactly what kendi oil
is
, but what I can't argue with is the results. Not only does this stuff seal your split ends (nothing can FIX splits, no matter what they say), which is a godsend for long hair like mine by keeping it from splitting further- it also works as an intense treatment to keep hair from breaking. Oddly, they say it's best for thick or coarse hair, but I just use the tiniest drop, rub my hands together, then rub this onto my hair, concentrating on the ends. It imparts crazy shine and if you color your hair, it helps to protect your color as well. I've been using this before blow drying my hair and my hair shines like a mirror, is completely frizz free, and dries super quickly. I am an Alterna fan for life, and it's products like this that made me so.
Update: HAHA! Kendi Oil is simply their proprietary oil blend of multiple different types of oils. That was driving me NUTS.
Sephora has a cool little trial kit for the Kendi line as well.
Best:
Oscar Blandi Jasmine Oil Hair Serum makes me swoon. The jasmine scent is so incredibly lovely that I usually don't even wear perfume when I use this. I just grab hanks of my hair and inhale deeply all day..... It makes an absolutely FABULOUS detangler, which I need desperately with my Crystal Gayle hair. It imparts a super high gloss to your hair without weighing it down at all or making it look or feel greasy. You only need a pea sized amount, so it lasts forevah. Jasmine essential oil helps protect the hair and creates a highly reflective surface. Using this before blow drying will cut down your dry time and keep you from getting frizzies or flyaways. I live for this stuff.