Total value
(WITH magazine)
:
$115.55
New Beauty Test Tube is a quarterly beauty program that runs $29.95. The value always FAR exceeds the cost, and you receive a mixture of full sized and deluxe sample sized items. QVC joined with New Beauty magazine to put out a limited QVC edition which I think I like even more than the regular one since I adore all of the brands that are on QVC and you often get limited edition products that are only available thru QVC.
WEN Cleansing Conditioner
Description: Discover why "friends don't let friends use shampoo." Chaz Dean's revolutionary Cleansing Conditioners eliminate ordinary shampoo with a lather-free formulation that won't sacrifice the integrity and beauty of your hair. The WEN system was created with a perfect balance of ingredients, including herbs and natural elements, to not only cleanse your hair and scalp but moisturize, soothe and add sheen as well. All WEN Cleansing Conditioners are color-safe and so versatile they can be used by anyone.
More Info: WEN is a single product that both cleanses and conditions, without the use of damaging detergents found in shampoos. Acai fruit extract, amino acids, cupaucu seed butter, goji berry fruit extract, hydrolyzed soy protein, and white tea leaf extract.
Fun Fact: WEN is "NEW" spelled backwards. The concept of not using shampoo is something Chaz Dean has been implementing since 1993. WEN cleanses with astringent and antibacterial properties without lathering.
To Use: Rinse hair thoroughly, then apply 10 to 40 pumps to your scalp, massaging thoroughly. The amount of pumps you'll use will depend on your hair length. You're supposed to apply it to your hair in four sections

(top, each side, back)

. Then massage it in for 1 to 3 minutes. Comb through hair and leave on for 3 to 5 minutes

(or longer if you can; the longer the better the results)

. Rinse well. Apply half a pump to a full pump as a leave-in conditioner to soaking wet hair, if you wish.
My Thoughts: I am crazy about this stuff, i just had to learn how to use it first. The first time I used it, I was all "WTH? my hair looks like crap!" but my mom is addicted to this stuff and told me I needed to watch the instructional video. Do you know how stupid I felt having to watch an instructional video to WASH MY HAIR? Totally worth it. It takes a lot longer, so I save it for when I'm not in a hurry, but it makes my hair look UHmazing.
Full Sized: 6 fl oz @ $18

(this is the smallest size the Cleansing Conditioner comes in)

.
Size I Received: 6 fl oz
Value: $18.00
LAURA GELLER Baked Marble Eyeshadow in Toasted Biscotti
Description:
Laura Geller Baked Eyeshadows are made in Italy using an unprecedented baking technique to create marbleized pigments in a variety of hues for any look.
More Info: Luxurious color glides on effortlessly with a silky finish. Its versatile formula can be used dry for creamy color payoff, or wet for long-lasting wear. Vitamin E and jojoba seed oil are key ingredients.
More Info: Available in an array of rich tones and split pans, the marbleized colors offer endless possibilities when it comes to mixing and matching to complement any skin tone.
Fun Fact: The unique baking process that creates Laura Geller Baked Eyeshadows transforms the liquid base into a fine powder. Each shadow starts off as a swirly liquid pigment, which is baked on a terracotta pan for 24 hours by Italian artisans. Each one is hand-finished for the silkiest results.
To Use: Using an eyeshadow brush, sweep color across the entire eyelid, blending outwards. For best results, prep lids with primer.
My Thoughts: These shades are shimmer free, so they're a great workday staple. No brainer to blend these together for a simple and quick polished look. I keep this one on the table by my mirror so if I'm in a rush I can pop this on and be good to go with a minimum of effort. Silky application and good staying power (I've only used it with a lid primer) I LOOOOVE the little mirror in the lid since my eyesight is horrid and it makes application super easy.
Full Sized: 0.06 oz. @ $23
Size I Received: 0.06 oz
Value: $23.00
JOSIE MARAN 100% Pure Argan Oil
Description: Argan oil is the primary ingredient in all of Josie Maran's products. A natural super-ingredient, rich in vitamin E and essential fatty acids, argan oil produces antioxidant effects to help nourish the skin and hair.
More Info: Argan oil is a pure remedy used to help treat dry, rough skin. The oil will help soften, hydrate and nurture to improve the overall appearance of your skin. Argan oil leaves your skin feeling and looking naturally refreshed while imparting a youthful glow. This is 100% first cold-pressed pure argan oil.
More Info: Whether you want to tame flyaways or treat split ends, argan oil can soften and condition cuticles and rejuvenate hair, from root to tip.
To Use: Massage into skin where needed or use your fingers to smooth Argan Oil through your hair.
My Thoughts: The first company to really be known for using argan oil, and definitely one of the best. You can use this stuff for EVERYTHING. Hair, skin, cuticles, nails- you name it. A desert island staple if there ever was one.
Full Sized: 1.7 fl oz. @ $48
Size I Received: 0.17 fl oz
Value: $4.80
SUPERSMILE Professional Whitening Toothpaste in Original Mint
Description: Created by Dr. Irwin Smigel, the world-renowned "Father of Aesthetic Dentistry," Supersmile Professional Whitening Toothpaste removes superficial stains, such as those caused by coffee, tea, tobacco and red wine, for noticeably whiter teeth and includes sodium bicarbonate, providing fresher breath.
More Info: Supersmile whitens teeth and effectively restores bonding, porcelain veneers and dentures to their original color by removing extrinsic stains. The proprietary blend of Calprox and baking soda freshens breath and helps to maintain healthy gums. Fluoride works to protect teeth from cavities while calcium, phosphates and magnesium combine to strengthen and remineralize tooth enamel.
Fun Fact: The protein pellicle is a thin layer of protein that binds stains to the tooth's surface. Unlike most commercial toothpastes, Supersmile is formulated without silica, which is commonly used to scrape the protein pellicle from tooth enamel, making it 75 percent less abrasive than the standard established by the American Dental Association.
To Use: Use a pearl-sized drop of toothpaste on a dry toothbrush and brush in a circular motion for two minutes then rinse with water. Brush at least twice a day.
My Thoughts: Yes, it's crazy expensive for toothpaste, but it truly is effective. Unlike most whiteners, this one actually works on caps and bonding! Whoo hoo!
Full Sized: 4.2 oz. @ $21
Size I Received: 1.75 oz
Value: $8.75
MALLY Evercolor Starlight Eyeliner in Midnight
Description: Give your eyes the star treatment with Mally Starlight Eyeliner. The high-performance formula glides on effortlessly and lasts and lasts.
More Info: With a little gentle smudging, you can transform your everyday look from subtle to sultry, perfect for that big night out. Long-wear and professional quality, this eyeliner is extremely long lasting. Jojoba and other natural oils, lubricants and slip builders are the key ingredients.
More Info: The liners are available in more than 15 brilliant colors to compliment any look. In the October 2011 New Beauty Test Tube - QVC Limited Edition shipment, everyone received one of three different shades of the Mally Evercolor Starlight Eyeliners.
To Use: The liners glides on easily and can be sharpened with any type of sharpener, although it is recommended that you chill the product before sharpening.
My Thoughts: A really great eyeliner, I just wish they hadn't felt in necessary to put it in not one, but TWO other Test Tubes! (A QVC one and a non-QVC one.) Since I'm a religious eyeliner user it certainly won't go to waste, however. Smooth, creamy application that smudges easily for a smoky eye without getting all over your face (ahem, Elizabeth Arden, I'm looking at you!)
Full Sized: 0.04 oz. @ $15
Size I Received: 0.04 oz
Value: $15.00
ALGENIST Anti-Aging Moisturizer
Description: Formulated with the anti-aging ingredient alguronic acid, Algenist Anti-Aging Moisturizer works to nourish and restore skin moisture while firming the skin. Wrinkles, fine lines and pores appear minimized.
More Info: The luxurious cream works to restore and maintain moisture, creating younger-looking and more radiant skin. Algenist focuses on the ability of effective bioactive ingredients to deliver visible anti-aging results to the skin.
More Info: The moisturizer is formulated without harmful ingredients such as parabens, sulfates or synthetic dyes and fragrances. It is hypoallergenic and noncomedogenic. The key ingredients are alguronic acid, vitamin C and apple cell extract.
Fun Fact: Scientists working at a biotechnology laboratory in San Francisco were researching renewable energy solutions when they unexpectedly discovered the capabilities of alguronic acid.
To Use: Following cleansing and application of the Concentrated Serum

(or any serums/treatments you may be using)

, apply the Anti-Aging Moisturizer to the entire face, neck and chest morning and night.
My Thoughts: I somehow lost the jar and never got to use it. If I find it, I'll give you an update! Ooopsie!
Full Sized: 2 fl oz @ $90
Size I Received: 0.5 fl oz
Value: $22.50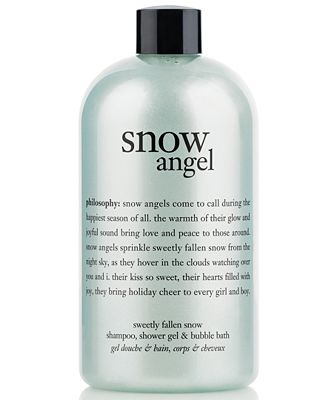 PHILOSOPHY Snow Angel 3-in-1 Shower Gel
Description: The multitasking Philosophy Snow Angel shampoo, shower gel & bubble bath offers a fresh snow scent, reminiscent of your childhood.
More Info: Working as both a shampoo and shower gel, the formula cleanses and conditions the skin and hair. Vitamins B5, vitamin E, and allantoin are the key ingredients.
More Info: This playful blue hue and snowy fragrance are symbolic of a time when snowmen, sleds, innocent snowball fights - and of course, snow angels - ruled the winter months, evoking a sense of childhood nostalgia.
Fun Fact: Philosophy uses children's pictures and lowercase writing on its packaging to symbolize the simple pleasures in life and remind everyone of the genuine curiosity and wisdom that is the childhood consciousness in us all.
To Use: Apply to wet body or scalp. Lather, rinse and repeat as desired. If using as a bubble bath, simply drizzle a generous amount under running water.
My Thoughts: I am a complete JUNKIE for their 3 in 1, but I prefer their food scents over the more perfumey ones. This one is a nice middle ground and smells just kinda, well, clean. Still not one I'd buy a full sized one, though I know a ton of people who ADORE the scent- it's just my own personal quirk, I suppose.
Full Sized: 24 fl oz. @ $20
Size I Received: 2 fl oz
Value: $1.67
PERRICONE MD Firming Neck Cream
Description: The first cream developed by Dr. Perricone to specifically address aging concerns of the neck area, Perricone Firming Neck Cream combines advanced ingredients to improve firmness and the overall appearance of the skin.
More Info: The neck is typically one of the first areas to display the signs of aging. This cream is specifically formulated to help reduce the appearance of lines and wrinkles and firm the appearance of skin in the neck area. Dr. Perricone's Firming Neck Cream contains highly advanced and potent sciences rarely round in anti-aging products, helping to improve the appearance of elasticity, texture, lines and wrinkles, leaving your skin softer, smoother and more youthful.
More Info: The patented phospholipids science in this cream deliver advanced hydration and moisture to the skin to promote a smoother, younger appearance. The key ingredients are phospholipids, tocotrienols, and palmitoyl carnosine.
Fun Fact: Dr. Perricone is certified by the American Board of Dermatology, a Fellow of the New York Academy of Sciences and a Fellow of the American College of Nutrition. He is also the recipient of the Eli Whitney Award presented by The Connecticut Intellectual Property Law Association to an outstanding individual who has made significant contributions to science, invention and technology.
To Use: Massage into the neck area twice daily, using gentle circular motions.
My Thoughts: i love Perricone products, and while I don't really have problems with turkey neck, I've started using moisturizers on it to head the damage off at the pass. I DO see and feel a difference after having used the whole thing just in my skin appearing firmer- if you've got massive wrinkles, this would surely rock your world. In the meantime, I subscribed to the philosophy of doing an end run around my wrinkles and staving them off with the big guns!
Full Sized: 2 fl oz @ $95
Size I Received: 0.25 fl oz
Value: $11.88
Info: This magazine is sold by itself for $9.95. It is a larger magazine that covers a wide range of beauty topics - from makeup to skincare to plastic surgery. It's a fun read and you're likely to learn something from it, if not several things.