I have tons of handcrafted goodies about me because I'm an
addict

when it comes to one of a kind items. I've tried my darndest to spread the word on what's out there, and hopefully a few small companies have gotten some new customers. I am honored when someone asks my opinion about a product, and I

love

to hear what you guys think about products, and your own recommendations!
Anyways......
I did a video showing a range of some of my current acquirements from the small business world out there....
And here are links and further information on each company. Tell 'em the Beauty Pirate sent ya!
From
Ye Olde Chandler
I have a wax tart in Pumpkin Spice
These Handmade Natural Soy Candles last approximately 16 hours in a standard tart warmer. Tarts come in packages of three for $1.50 and smell divine! I swear, I want to EAT the Pumpkin Spice!
From their Four Elements Soap Collection, I have a bar of their Water blend, which is appropriate for my being a Pisces :-) Water inspired scents are among my favorites!
The bars are $3.00 each or a set of all the elements for $10.00.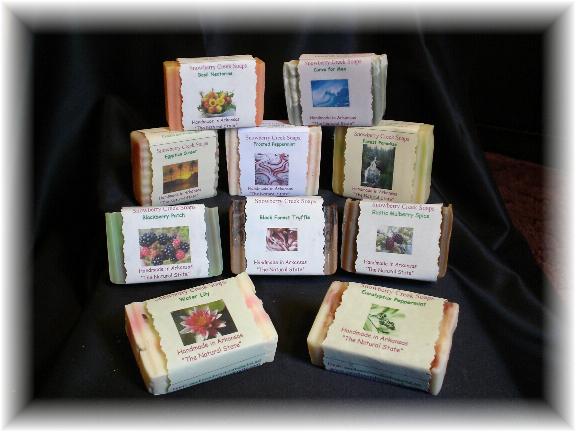 From Snowberry Creek Soaps is a bar of their hypnotic Mayan Gold Soap. Their soaps are a handmade cold process soap, which is more time consuming but yields a hearty, long lasting soap. Handmade in the State of Arkansas.Each bar sells for $3.50.
From Simply Shop 323 I have a wickless melt in Raspberry Ginger. Their adorable Tiny Melts are currently on sale for $1.50
I also have a bar of their Simply Tempted Pucker Up! soap, which has silk fiber (!) and is totally
vegan.

They have everything from one of a kind bags, jewelery, handmade bath products- you name it.
For more bath fabulousness, check out
All Lathered Up
who is currently having a sale with items
50%-70% off!

The Sweet Cranberry Sugar Body Scrub is to die for and is only $12.98 for an 8 oz jar.
I also have a bar of their Luxury Shea Butter Soap, which will run you $5.65 for a 4-5oz bar. This highly lathering soap is one of their customer favorites! They do offer discounts on purchases of multiple bars as well. i cannot say whether these are vegan or not, as the specific ingredients are not listed, however I'm sure they'd be happy to answer your questions!
I've raved about these guys before, but here's a reminder- Overall Beauty
has some truly wicked good mineral eyeshadow. Their website is also a great source of information, with beauty articles and tutorials. For a $1.25, you can even order sample jars (that's right- jars, not baggies!) of many of their products. I have Bronze Turquoise and LOVE IT! (Watch the video to see a swatch).
one of my faves from this batch came from Mrs Sterling's Bath & Body Boutique.
The Lavender Martini Cupcake Bath Fizzy W/Soap Top is psychotically cute. For only $5.95, this is a super cute gift.
Country Keepsakes
has the cutest food shaped wax melts. Their primitive style tarts are hand poured soy wax. my favorite products of theirs are the food styled products, hands down. They look so real! Stop by their website and check out the cake and pie candles.... Their caramel scent drives me wild.
The Soap Corner
has handmade soaps and tarts, and I have a bar of soap in Cucumber & Lavender and a delectable Maple Pecan tart.
I will once again hammer into every tea drinker's head out there that SBS Teas is the way to go! Support indie companies- Bigelows has enough money! As I type this, I'm waiting for my kettle to boil so I can enjoy a cup of their White Radiance tea, a white tea blended from Golden Yunnan & Silver Needle White Tea. And I love the convenience of their personal teabags for when I can't locate a handy tea ball or want to take a loose tea to work. A bag of 64 is only $5.95!
For cute favors, visit Delightfully Wed
for Western Themed soaps and favors (you can see them in my video)
or Favor Of My Heart,
a division of Delightfully Wed for just about any little favor goodies you can think of.
Heaven And Earth Essentials
has an ENORMOUS selection of bath and body products, like the Olive Oil & Glycerin soap in Hankerin' which is a blend of green apple, melon and pear.
and I am just nuts about the Whipped Sugar Scrub in Berry Bliss- which even has a real berry perched on top! Made with organic cane sugar and golden jojoba oil, it will leave you soft and sweet as a baby butt.
So go outside the box and try some of the indie companies, and tell 'em The Beauty Pirate sent ya!